Register here for our new STEM Program
The AESA STEM Academy offers a unique and innovative curriculum that combines science, technology, engineering and math to give students the skills they need to excel in the 21st century.
This program will be the most fun and advanced STEM!
If any of you know the ARMATH program in Armenia, they are expanding to the US! The AESA (Armenian Engineers and Scientists of America) is offering the ARMATH program in Glendale. This will be the flagship laboratory in the US.  There are almost 700 laboratories worldwide offering this highly successful curriculum.
If your child (ages 8-18) has an interest in robotics, coding, 3D modeling, this is going to be an amazing program. One day a week for 4 hours.
Register your child for the most advanced and fun STEM program in Glendale
here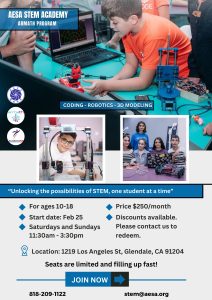 Feel free to contact us at:
Email: armath@aesa.org
Telephone: 818-209-1122